And the survey says… protect the Western Toads (and other species at risk)!
In 2013, A Rocha Canada's Conservation team was informed by a local landowner that a population of Western Toads resided in ponds located only 1.5 km away from the Brooksdale Environmental Centre. 
Since then, the conservation team has been studying and monitoring the population of toads and their migration annually. When the tadpoles metamorphose and emerge out of the ponds as tiny toadlets, they do so in a mass of thousands and disperse into the forest (and later return to their natal breeding pond to mate and deposit egg masses). This migration makes them unique but also vulnerable to high numbers of mortality when crossing roads and trails with human traffic. 
Western Toad Quick Facts:

Western Toads (

Anaxyrus boreas

) were designated as a species of special concern by COSEWIC and is listed under Schedule 1 of the Species at Risk Act

T

he range of the Western Toad in Canada spans from BC, western Alberta, south east Yukon, and south western Northwest Territories

T

he main threats are habitat loss/fragmentation, road mortality, competition with invasive species, chytrid fungus, pollution and climate change
After monitoring the population for 6 years, the conservation team observed massive mortality on the roads surrounding the breeding population in South Surrey. Similar trends have been observed in ponds located in Langley, Chilliwack, Whistler, etc.
A Rocha Canada's goal for the Western Toad is to try to conserve the breeding population. 
To address the largest current threat of road mortality, this summer the conservation team built a fence to help funnel the toads safely underneath heavy traffic road to allow them to disperse into the forest on the other side.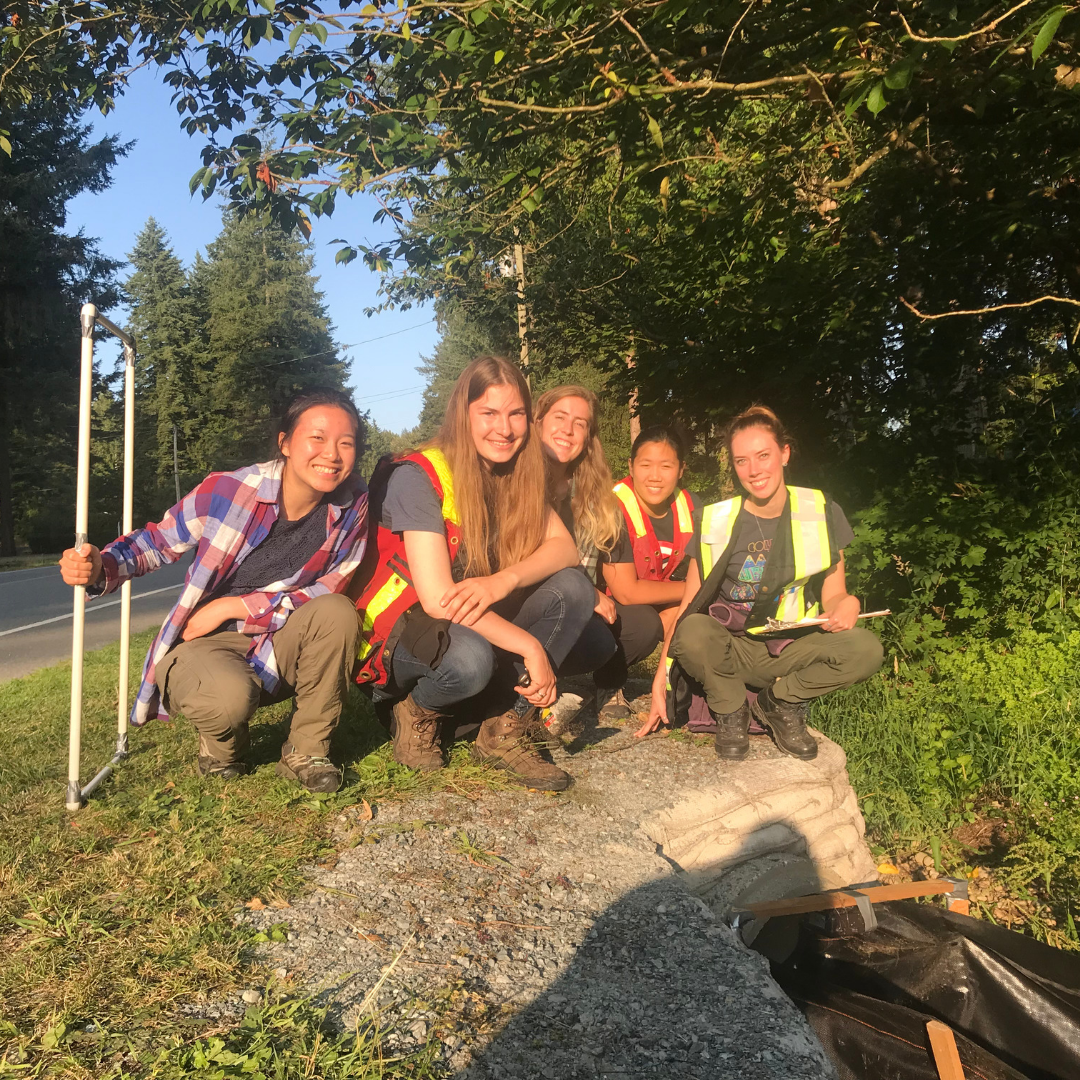 The team also brought a delegation to the Township of Langley to obtain a temporary road closure for a particular section of road to reduce traffic during the migration, which was successful as signs were posted in the area of concern.
The project was the result of the shared effort of volunteers, landowners, interns, staff, the Township of Langley, and the City of Surrey. Approximately 33 people came out for tours of the area to see the migration. The team also worked with four landowners to access the ponds and monitor development of the tadpoles and toadlets as well as the water quality. We also engaged with approximately 50 other landowners while conducting surveys throughout the summer, many of whom shared our excitement in trying to conserve this at-risk species as several of them have been in the area for over 20 years and remember when the ground looked like it was moving because there were so many toads migrating at once! 
So, why protect the Western Toad?
Globally, the wildlife population is declining by 60% over the last 40 years

Western toads are important because they are part of the greater ecological food chain, fuelling our ecosystems. (even the smallest animals play a role)
It is important to conserve species at risk to prevent further decline in biodiversity. Wildlife play a large role in maintaining ecosystem functions and services (e.g.,  clean drinking water, fresh air to breath, decomposition, etc.)
And of course, they are super cool!
5 ways to protect species at risk:
Learn about the species at risk in your neighbourhood. Check out the Government of Canada's listing here.
Volunteer with local environmental groups to restore habitat. Visit an A Rocha site near you or participate in events here. If you're in BC, consider joining our Facebook group to learn about ongoing conservation volunteer opportunities.
Grow native plants in your garden. Make a difference in your own backyard. Check out our gardening resources to make the biggest impact.
Don't use pesticides. Ladybugs, spiders, and praying mantises will naturally keep pest populations in check!
Consume less: reduce, reuse and recycle. Consider foregoing single-use plastics and making the most of what you already have. Here are some other ways you can live lighter.