Urban Plunge team (left to right): Aurora, Cat, Jenisa, and Logan.
Lessons in Service and Community
By Aurora Sarchet
In February of this year, I staggered from my dorm burdened by two backpacks and awkwardly clutching a pillow. I and three other Trinity Western students were headed off for the Creation Care Urban Plunge trip hosted at A Rocha's Brooksdale Environmental Centre. Over reading break, we explored Brooksdale's woods, walked by the river, visited the chickens, and learned more about A Rocha's mission and vision. We met with staff members to explore a biblical view of creation care, and joined the community for meals, times of prayer, and a folk music night. Putting what we had learned into practice, we also had the opportunity to participate in a restoration project at a local hatchery. I find myself inspired and encouraged by the way A Rocha incorporates faith, community, and creation care into a vibrant whole.
Evening at A Rocha's Brooksdale Environmental Centre Guest House.
I admire A Rocha's work of inspiring and communicating care for God's creation, and I think that their model for doing so is unique and beautiful. As humans, I believe we are created to do good work – work that matters and gives glory to God. More than that, though, we are created for relationship – to work with other people, to fellowship, rejoice, laugh, and sometimes mourn together. A Rocha invites the whole person – body and soul – to participate in the work of caring for God's world and for other people. This was impressed on our group throughout our stay as we had the opportunity to meet with the A Rocha community for times of prayer, meals, work, teaching, and for a night of folk music (have you heard the song "The Man in the Moon is a Newfie?" if not, go look it up). When I asked my teammates to share their experiences of A Rocha's community, team leader Logan responded: "I had always known that God commands us to live in community with one another and to show love with each other. However, staying at A Rocha taught me how to actually put that command into practice and live by it…" I think that's an impression that was shared by our whole team: we were deeply impacted by the sense of welcome and community we found at A Rocha.
Another thing that impresses me about A Rocha are the chances for service it offers. Sometimes, I feel like I should do more to actively love God's creation. Maybe you've felt that way too – kind of frustrated, like you want to do something but aren't sure what. During our stay at A Rocha, our team got the chance to experience what active love for God's world can look like. With Restoration Technician Chris Wang, we traveled to the Little Campbell Hatchery. Equipped with gloves and clippers, we worked for several hours on clearing invasive Himalayan blackberry from a section of riverbank, cutting it to the ground to create space for planting native species. If you've ever worked at clipping blackberries, you know it can be a scratchy, prickly business. Despite the hard work and the scratched arms and legs, however, that day on the riverbank was one of my favorite parts of my time at A Rocha. Talking and laughing with the other workers, our hours of restoration work didn't seem long. Having good work to do with likeminded people can be both a rewarding challenge and an honor.
Fellowshipping with A Rocha's chickens was a highlight.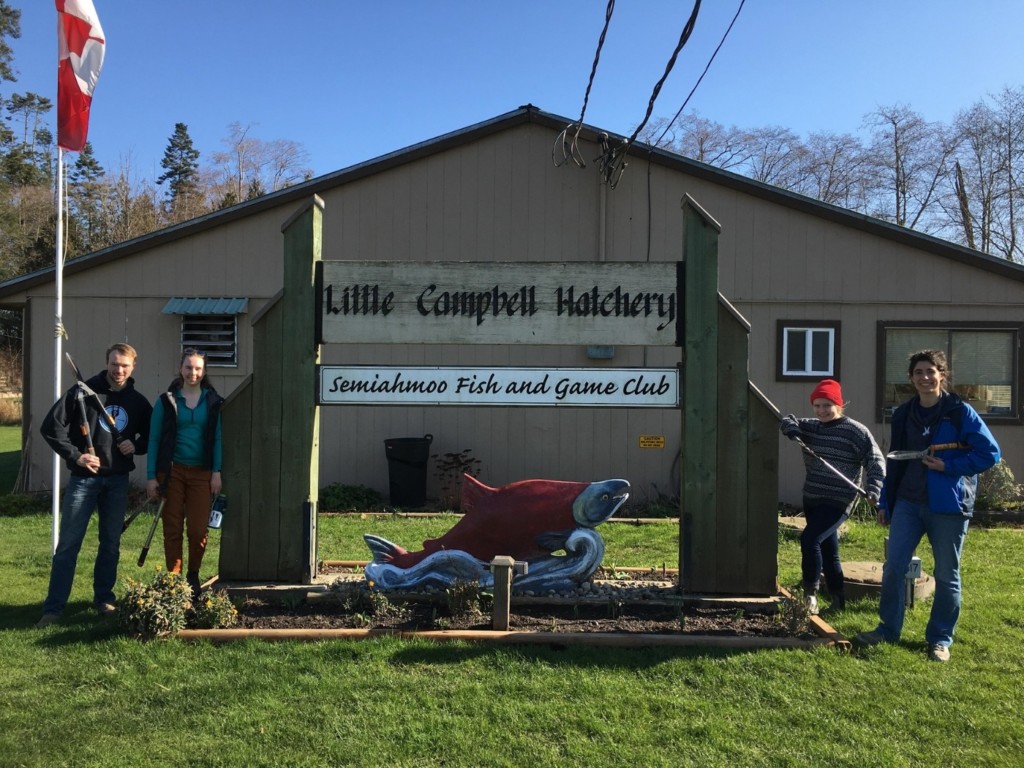 Armed for restoration work at the Little Campbell Hatchery.
A Rocha offered my teammates and I a chance to step back from the hectic day-to-day, to breathe, think, and come together with other people. It also offered an opportunity to serve, working together to help restore God's creation. If you are looking for a way to get involved with creation care, I highly recommend volunteering! A Rocha offers a number of volunteer opportunities, including monthly events and Restoration Saturdays. Trip leader Cat has volunteered with A Rocha in the past and plans to do so again. She shared her hope that others will have the opportunity to work with A Rocha, and that they will "be brought closer to Creation through spending some time here and enjoy being in the stillness that lives in Brooksdale…" You are invited! Come experience the stillness, the community, and the joy of service for yourself.
Blackberries are tough, but so are we!
EVENTS
Check out our volunteer opportunities
We continue to encourage people to stay home because of COVID-19. So unfortunately, we are not actively looking for volunteers at this time. However, we invite you to bookmark our events page to keep up with any opportunities in the future, especially as provinces relax restrictions!
EVENTS
Aurora Sarchet is a volunteer and recent graduate of Trinity Western University who loves exploring God's creation year-round.