Eggs – eyed eggs – alevin – fry – smolts – adults – spawners. That's the mantra students all over this province repeat as they learn their salmon life cycle in biology class. Those lucky enough to participate in the Stream to Sea program even get to watch them develop, at least from eggs to fry, before they are released in the spring. But how many regular folk like you and me get to see the miracle of growth that happens 30 cm underneath the rocks in the salmon bearing streams all winter long? The answer in Houston is – anyone who volunteers at A Rocha's small pilot coho hatchery.
On October 1st just over 6,000 coho eggs were fertilized and put into a recirculating system completed by talented volunteers just days before (see And Then There Were Fish to read that story). Since then, volunteers have been visiting the hatchery at least once per day to check to make sure the water is still running and the water temperature is appropriate for developing coho (between 3-5C).
During incubation time we had to keep operations pretty quiet. Even the location of the hatchery was a bit of a secret. At this stage the eggs are so delicate that even a bump of the system is enough to kill them and we wanted to give them their best chance. As the accumulated thermal units (ATU's) built we watched in anticipation for it to reach the magic number. At 230-250 ATU coho eggs are eyed and much more robust. Finally, in the middle November it happened, and a few of us took an anxious peek. We were excited to see that fertilization had been successful and our "babies" (as we fondly call them) had little black specks that tell us the eyes are developing. Phew. Critical stage over, working stage begins.
The next step was to "shock" the eggs by pouring them from 18 inches above into a bucket of water where the belly flop on the surface kills any sick or dying eggs but will not harm the healthy eggs. The next day A Rocha and DFO staff as well as 5 keen volunteers spent three hours in sub-zero weather (-10 C to be exact) picking out the dead eggs, counting and measuring the live eggs and making careful notes on our datasheets. The final tally = 5,776 live eggs returned into two trays to continue their development to fry.
On one hand this sounds like a lot especially when you think that you have all these little lives in your hands. But on the other hand, it represents the number of eggs from only two female coho, and when you think that some hatcheries have their production into the millions this is just a drop in the bucket. So why do we do it?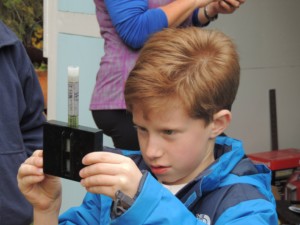 The main focus of this hatchery is to engage the community. The Upper Bulkley River is a small watershed considered to be one of the most endangered watershed's in the larger Skeena system. There is no fishing allowed which makes it even more "remote" because there are no fisherman eyes on the river. This makes it hard to know what's going on unless you are one of the landowners in this area privileged to steward land along the river.
The Bulkley A Rocha project is a way of providing opportunities for the community to be involved in the watershed and to learn more about (and, hopefully, ultimately protect) where they live. The hatchery is one aspect of the larger picture which also includes environmental education and watershed monitoring (including Streamkeepers work and bird studies to date). The goal is to grow Citizen Scientists who have the skills to monitor the ecosystem, provide valuable data to decision makers and contribute to hands-on conservation activities to improve the health of the Upper Bulkley River watershed.
Projects like these do not run on their own. It is only because of community that A Rocha's work exists. We have a fabulous community of volunteers, long time financial and prayer supporters of A Rocha's work in Northern BC and local businesses who took a chance on this hair brained pilot project idea. And to you all we want to say a great big THANK YOU!
At the risk of forgetting someone we would specifically like to thank the following for their financial and inkind contributions to the building of the hatchery so far. Thank you thank you thank you.
Andy Meints Contracting Ltd.
Department of Fisheries and Oceans Canada
Nadina Truck Service Ltd.
Steelhead Valley Contracting Ltd.
Traction Tire & Carwash
Houston Home Hardware
Castle Building Supplies
Sullivan Motor Products
Tower Communications
Kingfisher Carpentry
Embersons Plumbing and Heating
Vanderhoof Co-op
and of course the amazing volunteers who contributed $50,000 worth of inkind labour – you rock!
If you would like to be a part of this exciting project donate online or contact the project coordinator to find out more. We'd love to have you as part of our team.