Written by Scott Gerbrandt, Manitoba Director
So, I did an experiment.
I had a moment a couple of weeks into our quarantine life where I wondered "If I took a bit of time to try sketching birds would I be able to identify them better?"
First, let me say I used to do a bit of sketching when I was younger, like way younger, when I was in grade school and junior high. I remember enjoying it, and I practiced a fair bit, but once high school hit and I picked up a guitar – well, my inner high school rock'n roll punk took over my creative side for many years. The urge to sketch has been growing in me for a while, but I lacked a muse of sorts and so birthed my thought of combining a desire to identify birds a bit better and reengaging the joy of sketching.
The added bonus is that it is spring and birds are migrating!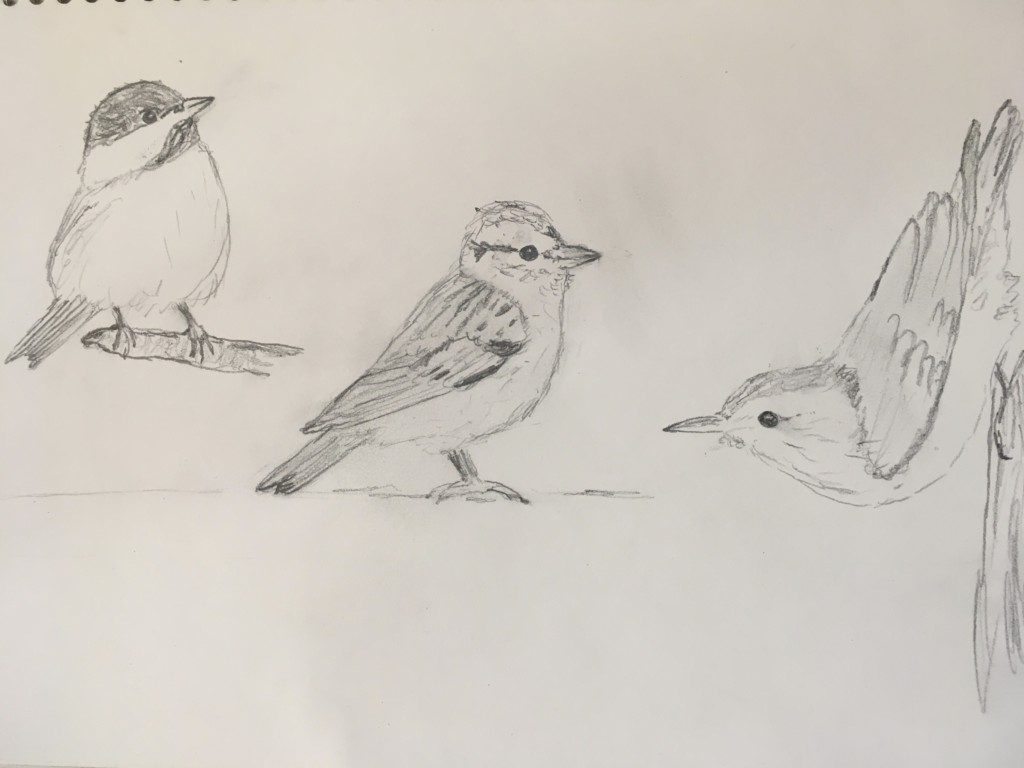 The first three I sketched were common birds that I had recently seen on one of my family's walks; a black capped chickadee; a chipping sparrow; and a white breasted nuthatch. The next was an American Robin (which was inspired by a large round of robins that were roaming the neighbourhood,but have now moved on).
It was on the fourth muse that I began to notice that something had changed in my curiosity and ability to notice!
My noticing came mostly in the form of my children complaining or mocking me on our walks as I'd stop and say, "Hey look over there… What kind of bird to you think that is" or "Hey did you see that – was that a white breasted nuthatch?" In particular my oldest seems to have increased his eye rolling and increased pace in walking to avoid being seen with me. All of this story is to say – Yes, I have come to find that I am able to identify a few birds more quickly AND that there are so many more birds that I cannot identify quickly but notice that they are unique.
On a similar note, last week in our National Team check-in one of our staff who was leading our opening reflection reminded us of Jesus's instruction to "Consider the birds…" and "Consider the lilies…" (Matt 6). What resonated with me was the idea that this instruction isn't just an offhand suggestion to glance at, or ponder the lilies, but rather a command to "examine them closely." In other words, learn from the lilies, apprentice yourself to the birds, rivet your attention to our non-human neighbours; see how they really work. In one small way I have been deepening this part of my journey these past few weeks through my sketches. I hope that in your own way in our current times you are able to look to the birds of the air and the wildflowers and see how God cares for these and come to sense God's presence near you in your own circumstance.
International Migratory Bird day is this Saturday, May 9th. As Scott has shown us, you don't have to be an expert to begin bird watching! Here are three programs that can help you to learn from our non human neighbours. The Merlin Bird App can help you identify birds.  eBird, a tool from the Cornell Lab of Ornithology, allows you to track your bird sightings and contribute to citizen science from wherever you are. And iNaturalist is a similar tool that allows you to track any kind of observation from the natural world. You can find an explanation for how to use iNaturalist at the bottom of this blog post. If you're feeling lost, and don't know where to start, check out this blog post on Birding for Beginners!