Conservation Leadership
A Rocha Canada's Northern BC project works with local environmental organizations, churches, schools, governments and concerned citizens to  protect and enhance biodiversity and ecosystem health within the Wet'zinkwa (Upper Bulkley) watershed. 
Therefore, we strive towards conservation leadership, demonstrating conservation activities with relevance, integrity and collaboration to inform decision-making. 
Projects include:
Streamkeepers monitoring

Biodiversity monitoring through bioblitzes and other citizen science initiatives.

Participation on the Upper Bulkley River Roundtable
In addition, check out our Nature Centre Facebook page!
Thriving Ecosystems and Communities
A Rocha Canada is a voice for the Upper Bulkley River watershed, which is approximately 2,315 km2 in size and include the town of Houston. Fed by tributaries (including the Buck, Byman, Barren, Mcquarrie and Richfield creeks), the Upper Bulkley River is one of the impacted watersheds in the larger Skeena River system – one of only two rivers in the world that still supports wild steelhead. Notably, the Upper Bulkley is home to coho, chinook, steelhead and sockeye salmon, as well as river otters, black bears, grizzly bears, wolves, mule deer, moose, coyotes, red foxes, toads, salamanders, ospreys, eagles, migratory birds and more!
The Upper Bulkley River (UBR) is the section of the Bulkley River upstream of its confluence with the Morice River. In addition, the headwaters of the UBR are found near Bulkley Lake, about 50 km east of Houston on Highway 16 which travels alongside the river.  Restoration and preservation of fish habitat is a unifying value of residents in the UBR watershed.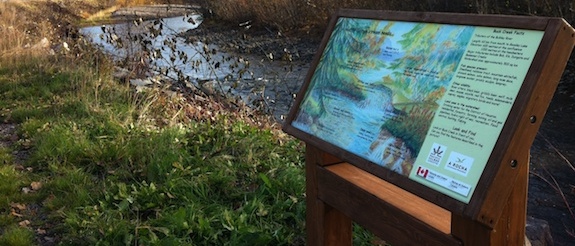 Salmon habitat sign along Buck Creek. Designed by A Rocha, funded by Pacific Salmon Foundation and Department of Fisheries and Oceans Canada.