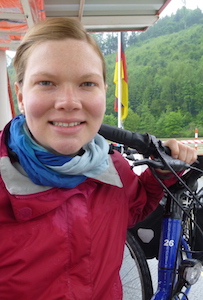 Assistant Professor of Biology at Canadian Mennonite University in Winnipeg, Rachel's teaching and research interests include parasitology, ecology, and global health.
She has a B.Sc. in environmental sciences from the University of British Columbia, and a M.Sc. in Biology from Concordia University (Montreal). She holds a Ph.D. in Parasitology from McGill University, where she studied at McGill's Institute of Parasitology and the McGill School of Environment.
She has worked on both wildlife and human parasitology projects, and is happiest when she can combine her interests in ecology, environment and human health. Rachel's history with A Rocha goes back to an internship she held after finishing her undergraduate degree, in which she worked on issues of salmon habitat quality in the Little Campbell River in B.C.