Message from the CEO & Board Chair
Have you ever seen an owl in its natural habitat? It's a privileged thing, not only because most are nocturnal, but also because owls are masters of stillness and seeing. They can hide or flee before you even register their presence. Their gyroscopic swivelling heads hardly seem to break the air with sound and their tunnel eyes will lock in on the slightest scuffle from sometimes kilometres away.
Like these owl traits, this year demanded stillness and invited a new kind of seeing.
It's also a fitting comparison because A Rocha's work is birthed from birding and stillness. We respond to the question; how should we be present with all Creation? This requires time, patience, listening and closeness to all the creatures of a place. The answer discovered is usually expressed by showing love in and to a particular place and community. Hope buds out of these commitments to places and from the people who have so passionately given themselves to their care.
You are part of that story.
This year, how did you welcome the invitation to stillness and seeing a new?
Here's how Antoinette van Kuik, A Rocha Canada Board chair, answered the question;
When one intentionally decides to combine stillness and seeing you realize that, "stewardship [Creation care]…needs to begin at home, not in some distant, untouched environment, and it should be reimagined as a call to faithful place-making and place-keeping."1
I deeply believe this calling to stilling and seeing is a gift the world needs more than ever.
Thank you for being part of a community that believes we have a gift that is more relevant than ever to offer the world.
1 Beyond Stewardship. Mark Bjelland p. 172.
In this strange, new normal of social distancing, many parents were considering other schooling options for their children. Despite the barriers the pandemic presented for many organizations, we had a gift to give — a place outdoors where kids could gather safely and learn: The Cedar Haven Eco-Centre.
This fall we launched a brand new program called Nature Academy — a science and nature school for kids ages 4-13. Each week at Nature Academy, we witnessed these students grow in their awareness and understanding of nature. Exploring the woods, building fires, identifying plants, and learning life and earth sciences gave these curious minds a hands-on opportunity to deepen their relationship with the natural world.
A Rocha invites children and adults into transformational encounters with creation, knowing that first-hand experience of the natural world elicits wonder, and wonder leads to caring. These encounters include summer day-camps for kids and gardening & nutrition programs for seniors, youth, newcomers & others with barriers to getting out in creation. We also host field trips for school children and internship programs for young adults.
Sustainable Agriculture Mission
If there's one thing that thrived during 2020 it's our Community Shared Agriculture program which produced more food than ever before and did so in ways that cared well for the land we have been entrusted.
The growing season brought increased interest and demand for fresh, local seasonal food all over the world. In a time of uncertainty, many folks were keen to connect with their farms. A Rocha's CSA program increased capacity this year and easily sold out of farm shares – producing about 200 boxes a week from June to October! The new "Harvie" CSA platform allowed for customized shares, proving to be a hit with customers, and a new and improved wash station and pack area allowed for efficient CSA day customized bin packing. Growing that much food well is a big task, and in order to fill the gaps of a reduced intern program, the farm leaned more heavily on an incredible group of volunteers (including at times other A Rocha staff whose program areas were on hiatus due to COVID) and new seasonal staff positions.
A Rocha's agriculture projects are good for the land and good for those who eat from it. We are connecting people directly to the land and to their farmers through endeavours like our Community Shared Agriculture (CSA) program in BC.
Conservation Science Mission
While many were discovering a love for sourdough bread-making during the pandemic, this year we discovered a new stretch of stream within the Tatalu river (Little Campbell River) watershed in BC where Salish Suckers gather to spawn! Since the surprise discovery of the Suckers in 2011, we have scoured 30km of river, setting hundreds of traps searching for more suckers, asking questions like: where do they spend their time? Which habitat is most important for us to protect and restore?
In 2019, City of Surrey consultants found juvenile suckers in a tributary we call the 194 Street Channel that runs through the Campbell Heights business park, just north of the A Rocha Brooksdale property. So in 2020, we investigated this area to see if it is used for spawning.
Brooksdale
Brooksdale continues to build partnerships with the local community and create opportunities to experience Creation through children's programming and reporting on our conservation science work.
Houston Watershed Stewardship Centre
Houston doubled down on its conservation science work by hosting bioblitzes, planting trees, and stewarding salmon in the hatchery.
94+ volunteers and participants and two staff spent 1,000+ hours counting and recording insects, birds, amphibians, salmon fry at key places in the Upper Bulkley River Watershed (see iNaturalist for sightings).
100 trees were planted in sensitive riparian areas.
5,113 coho fry were released in the spring from last year's brood and 2600 eggs were put into the incubation trays in the fall to be released this June.
Building the Nature Centre addition began at the end of May and is slated to be completed by April 2021.
Schools visited the Centre almost daily for 4 weeks during the COVID spring.
The annual Birdblitz saw more participants than ever before (17) and 92 species were counted over a 24 hour period.
The Nature Centre addition began to be built at the end of May and, because of your donations, is expected to be completed by April 2021.
Boreal Ecology Centre
A Rocha Manitoba is continuing to engage in excellent environmental education alongside learning about our non-human neighbors at the Boreal Ecology Centre.
Hosted 89 campers for 4 one-week day camps. We did this alongside five other community partners as we fostered wonder, joy and curiosity of nature and in our neighborhoods.
We have been enjoying our wildlife camera initiative at the Boreal Ecology Centre where we have set up six cameras since July and have captured many of our non human neighbors like wolves, bears, birds, mice, skunk, river otters, LOTS of deer and many more including the marten pictured.
Due to COVID, there continues to be large delays in the process of new builds at the Boreal Ecology Centre.
Cedar Haven Eco-Centre
A Rocha Ontario succeeded in adapting programs to serve isolated individuals and launched a new children's education program at the Cedar Haven Eco-Centre.
Operation Wild, nature education for adults with disabilities, went virtual and reached 230 people with varying cognitive and physical abilities. 2000 people connected to the natural world through video-based education.
Piloted Nature Academy — a new education program for kids — with full-registration.
Thanks to a gracious donor, our conservation team began the process of restoring the Cedar Haven pond to promote wildlife habitat and improve water quality.
In this next year, we plan to grow our education programs and continue to serve populations who struggle to access natural spaces.
It was with great anticipation that A Rocha Canada signed on to a new worldwide covenant on October 24, 2020 alongside A Rocha International (ARI) and 19 other A Rocha organisations worldwide.2 The Covenant initiates significant shifts in the operations of the worldwide family, beginning with a mutual commitment to one another as a family (as opposed to A Rocha national organisations relating predominantly with ARI), the introduction of regionally-nominated ARI board members, and a more robust understanding and process by which A Rocha organisations support one another. Though not explicit in the Covenant, clearly some A Rocha organisations are in more intense contexts that require dramatic and immediate creation care action and those organisations often have access to fewer resources. We aim to be a more closely linked, and mutually supportive worldwide family, whose expression is always local, but whose practical and prayerful care of one another makes a significant collective global impact.
Since the tragic accident that took the lives of Miranda Harris, and Chris & Susanna Naylor over a year ago, Peter Harris, co-founder of A Rocha has been recovering physically, making slow and steady progress. He recently "shifted houses" from where he lived with Miranda to a suite in some dear friends' house in Bath. His new home is near to children, grandchildren and close friends, making outdoor 'COVID-free' visits possible. Peter also continues to be engaged in sharing A Rocha's vision of a restored creation. His many talents, strengths and the courageous, faithful way he is journeying with grief and loss continue to bless the worldwide family.
2 New Zealand, Australia, Czech Republic, France, Ghana, India, Kenya, Lebanon, Netherlands, Peru, Portugal, South Africa, Switzerland, Uganda, UK, USA, Christians In Conservation Inc., Climate Stewards, & EDEN Creation Care Initiative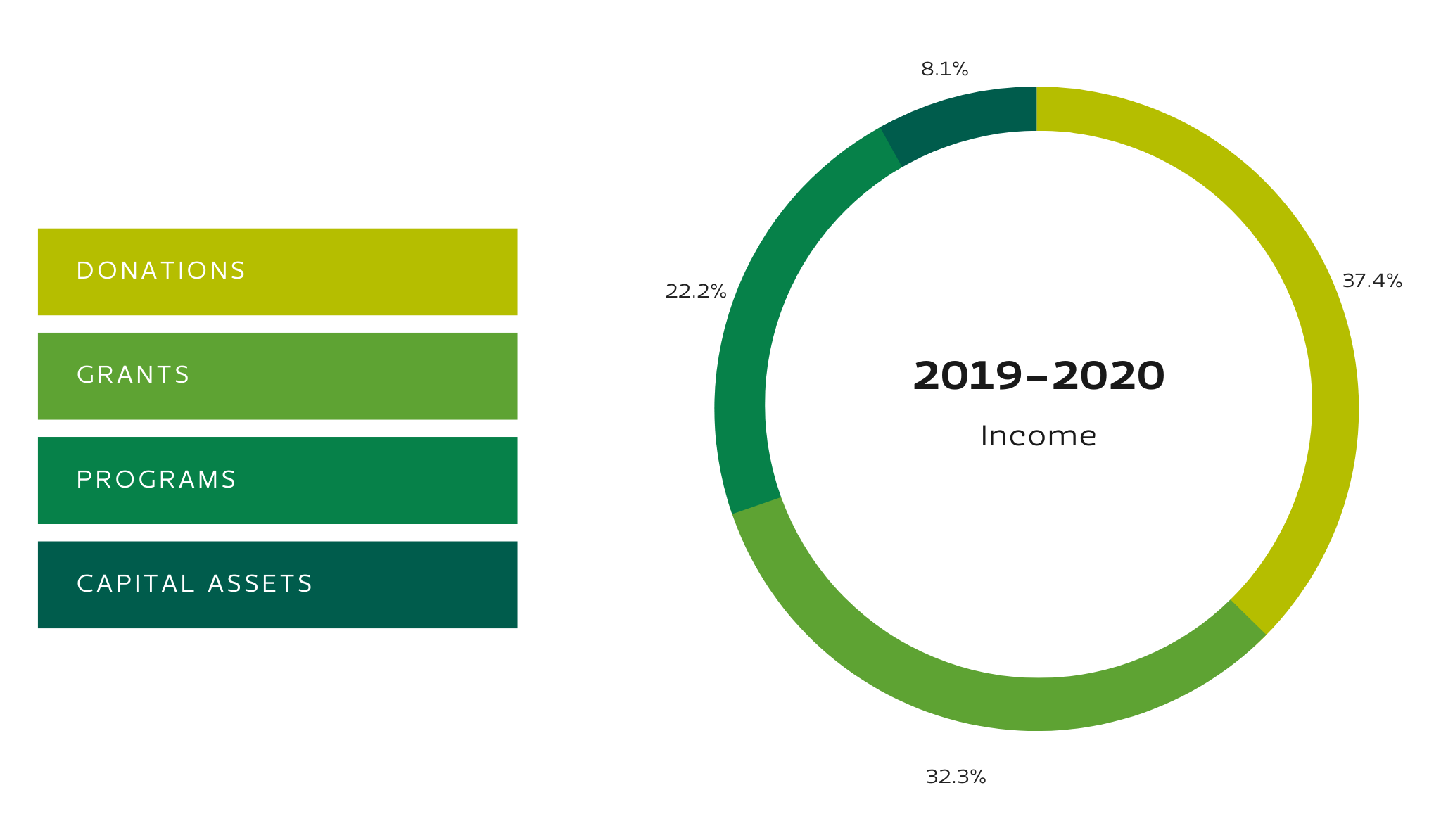 Thank You to our Partners
The Government of Canada
The Hamilton Community Foundation
The City of Hamilton
Eco Canada
The Ontario Trillium Foundation
The Winnipeg Foundation
Day Camp Partners: St Margaret's Anglican Church, Many Rooms Church Community, River East Church, Canadian Mennonite University
Manitoba Pioneer Camp: provided food for day camps and sent volunteers
United Way of the Lower Mainland
Peace Arch Hospital Foundation
West Coast Seeds
TD Friends of the Environment Foundation
Peace Portal Alliance Church
Tenth Church
A Rocha Canada is supported by the Government of Canada's Emergency Community Support Fund and SurreyCares
Conservation Project Partners: DFO Habitat Stewardship Program for Species at Risk, Pearson Ecological, Little Campbell Watershed Society, City of Surrey